About
Established in 1966 by Franz Kastl and Paul Zuch, Kastl & Zuch Plumbing and Heating has been proudly serving the Waterloo Region and surrounding area for 50 years.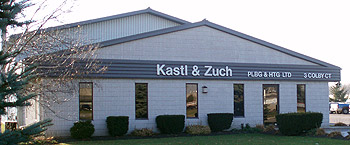 In the 1960's, Franz and Paul had a desire to start their own plumbing and heating company to serve the many German contractors in the area. By the early 70's, they eventually branched out to become one of the major plumbing and heating contractors in the region.
Kastl and Zuch has now settled into a full service company for plumbing and hydronic heating in the new construction and renovation fields. You will find our team of licensed plumbing and gas technicians very knowledgeable, professional and fully dedicated to customer service.
Kastl & Zuch Plumbing provides many types of plumbing services from new home construction to general plumbing repairs. Whether we are working for a new home builder, a renovation company or the customer direct, you can count on us to provide the same quality of service and workmanship for all. We buy quality fixtures and faucets from leading manufacturers in the industry, for which we offer installation and service at very competitive pricing. Please view the various manufacturer links for remodeling options and ideas.