Services
Heating – Sales, Installation & Service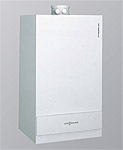 Boilers
We are one of the region's leading specialists in hydronic heating. Whether you require maintenance on an existing boiler system or a quote for a complete replacement, Kastl & Zuch is qualified to meet all of your heating needs. Our technicians are well trained to diagnose and troubleshoot all types of heating issues as well as assisting you in selecting a new system to suit your application. When quoting a new boiler system, we depend on and recommend The Viessmann Group, which is one of the world's leading manufacturers of heating and renewable energy systems. You can view products offered by Viessmann on their website at www.viessmann.ca or give us a call to discuss your heating requirements.
Radiant Heating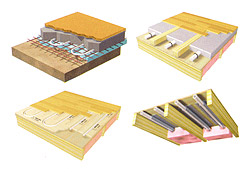 For over ten years we have specialized in radiant infloor heating from Uponor. The Uponor System, which we specifically design to suit your needs, circulates warm water beneath your floor through flexible and durable plastic tubing called PEX. Our trained professionals will install continuous loops of tubing back and forth, wall to wall, bringing heat to every corner of each room. Unlike forced air, radiant heat is distributed evenly throughout your home, eliminating the need for heat vents and blowers. Uponor radiant floor heat is very clean and does not disperse dust, allergens or pollutants through the air. This system can be used in many applications, including new home construction, home renovations or additions. It also works great beneath all types of floors including carpet, wood, tile, stone and concrete. Systems can also be designed to melt snow and ice from sidewalks and driveways. To learn more about Uponor radiant floor heating visit their website at www.uponor.ca
Water Treatment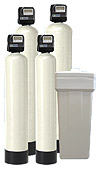 If you are living in the Waterloo Region, water treatment is virtually a must.
We promote, supply & install, the R-Can CS Series Water Softener. The CS Series softener is designed to help remove unwanted hardness and minerals from your household water. The softener's control valve will monitor system performance, water consumption and will automatically regenerate according to water usage. In return, it will provide cleaner glassware, softer laundry, smoother skin and prevents calcium and lime build-up in your household appliances and fixtures.
We also feature Reverse Osmosis systems, carbon and sulfur removers and combination Iron filter units. We are setup to test water samples from individual homes to help you decide what system set-up is best for you.
Gas Services
Our gas technicians are professionally trained and licensed to provide gas services for various applications, such as gas line installation for barbeque's, stove ranges or gas dryers. We also supply & install replacement residential and commercial sized water heaters. Call us today for a water heater quote that best suits your application.